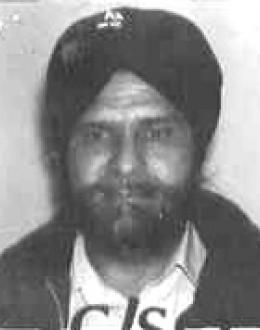 Surjid Singh Presto
Wanted on Canada-wide warrant for parole violation.
Surjid Singh Presto is a first time federal offender serving a life sentence for murder which occurred in June of 1974, as a result of a dispute between he and his landlord.
Personal description

Aliases: Presto, Surjit / Singh, Surjil
Sex: Male
Born:

April 1934

Hair Colour: Black
Eye Colour: Brown
Weight: 135 lbs / 61 kg
Height: 5 ft 3 in / 160 cm
Warnings
Take no action to apprehend this person yourself. Report any information to the nearest RCMP detachment or the police in your area or contact Crime Stoppers at 1-800-222-8477.